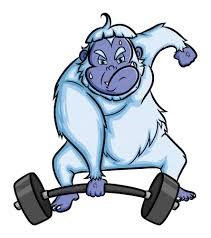 Keeping fit over the Holidays!
The bp fitness staff has the holiday fitness plan for you!
---
​​​​​​​
Join the bp Fitness Center for
Well My Weigh
in person or virtually. Let's maintain our weight over the holidays--Thanksgiving through the New Year!
Register on the Flex portal. All active members uses their emails for the username and created their own password. If you do not remember your password email bpfitness1@bp.com and we will reset the password to our generic password.
In Flex you will put in your initial weight and a goal. Each week go into your Flex portal and add in your weight. It will show a progress bar.
With this program there is also 10 different support groups that you can sign up for. We will not monitor the groups. This is peer led with supporting each other with like minded goals and activities.
Support Groups
​​​​​​​​

The Last 10 – wanting to lose last 10 pounds or less

Keep-it-off Club – stay motivated to keep weight off

Yoga is my Flow – all yoga enthusiasts

Pump it Up – for muscle conditioning

Goin' the Distance – about endurance-biking to running to swimming and beyond

Walking Warriors – for walkers

Plant Strong – Vegetarians or anyone wanting to add more fruits and vegetables to their diet

Foodies – swap favorite recipes

Motivators – encourage others and be encouraged

True to the Core – share ideas and motivate others to build a stronger midsection
Submit your weight in the your Flex portal each week to be put in for the weekly prize drawings. The activities are a bonus each week to keep you active and engaged.
Holiday Trivia
Mon 11/21 - Fri 11/25
Participants can still register by

Wed Nov 23rd
Weigh in starts on flex this week
We will start off with some fun holiday movie workouts to do over Thanksgiving week so you don't feel too guilty eating all of that yummy Turkey, dressing and pies

Get with family or friends and have movie nights with adding a fun workout!

If you are not into the holiday movies--try this fun alphabet workout. Make your own workout with using your name or fun holiday words

To be put into the weekly prize drawing

make sure you input your weight in Flex

also if you email bpfitness1@bp.com with completing one of the workouts then you get your name in twice
---
The Grinch movie workout
How many sets of each did you during the movie?
If you want a real quickie workout try this routine with the 30 minute original Grinch cartoon!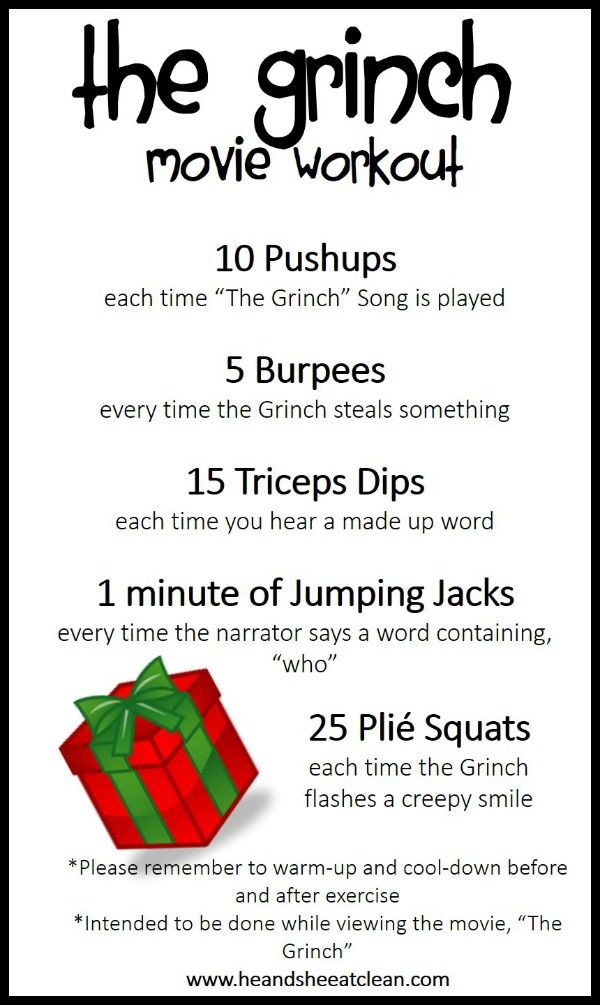 Holiday Movie Workout
Have fun with this holiday movie workout. Use this routine on any holiday movie you watch.
How many total can you do during a holiday movie?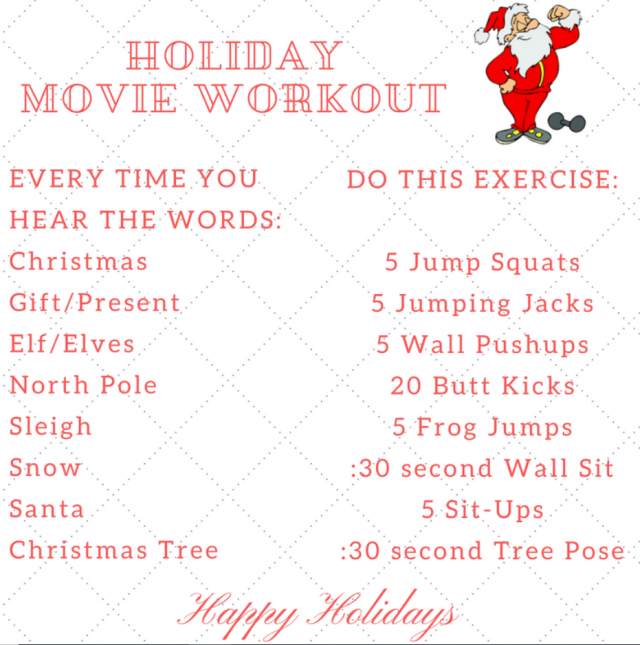 Elf Movie Workout
Try this fun workout while watching The Elf. How many burpees did you do?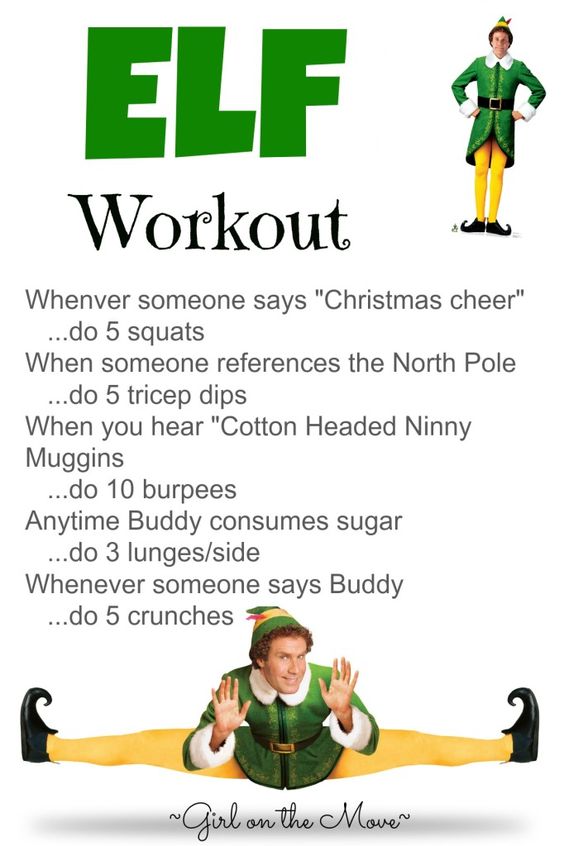 Alphabet Workout
Here is another fun workout to try this week at home if you don't want to do the holiday movie workouts.
Create different words such as your full name.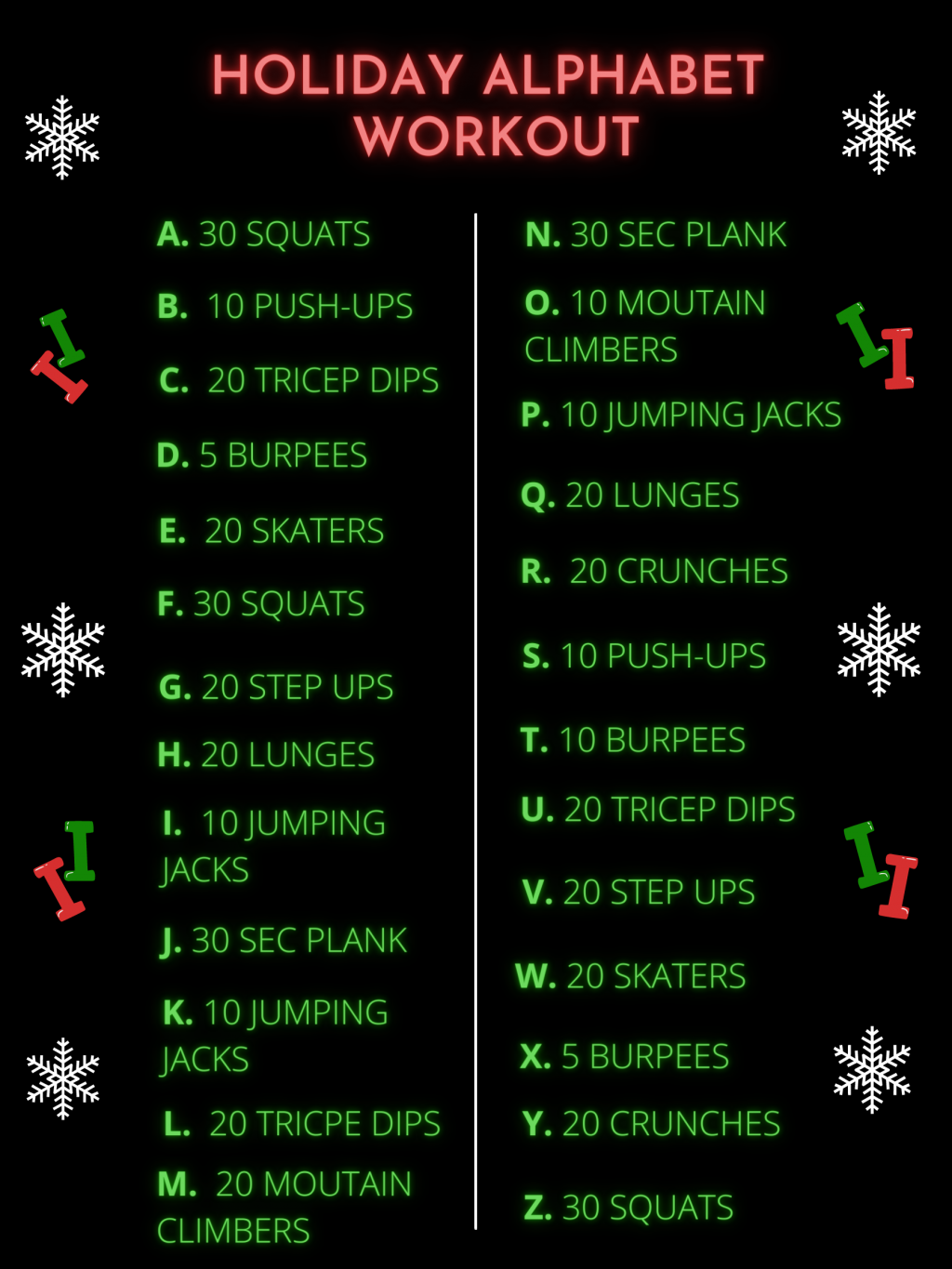 Strava
Move to Remove the Gobble
Strava is a great app to use if you are active with running, walking, cycling or any type of cardio activity. It will show the route you took outside along with time and miles. We use the app for many different programs such as the Fall Run Series, Cyclemania and even the Million Meters in May. There is also many groups you can be part of in the app especially within the bp fitness center.
To be put into the weekly prize drawing

make sure you input your weight in Flex

also if you email bpfitness1@bp.com with completing the Reindeer run/walk then you get your name in twice

If you do the run/walk at Energy Park or on your virtually-you will get the credit



​​​​​​​​​​​​​​​​​​​​​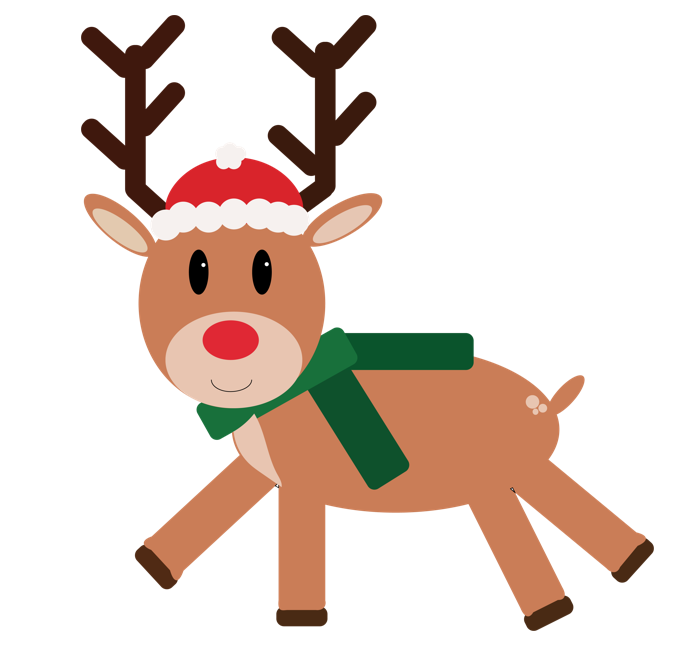 Join the bp fitness center at Energy Park on

Dec 1st at 11:30am

to run or walk a 5k (3.1 miles). We will start under the pavilion at Energy Park going through Terry Hershey park.
We will have a box for anyone that wants to donate an unwrapped gift for the Child Advocacy charity.
If you are not able to join us at Energy Park or not in Houston then you can do the run or walk on your own route at any time that day.
The Gift of Fitmas! Positive Vibes!
Mon 12/5 - Fri 12/9
Try a different style of class you've never done before or try a class for the first ti
All classes -- In person and virtual will take a break for the holidays from 12/19 - 1/2
To be put into the weekly prize drawing

make sure you input your weight in Flex

also if you email bpfitness1@bp.com with participating in the Yoga Flow pop-up class then you get your name in twice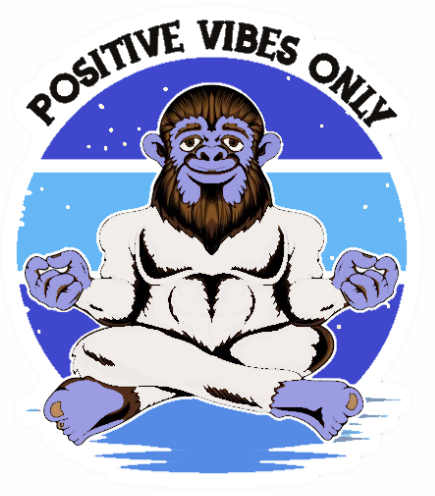 Join Kirie on Tuesday Dec 6th

at 12:00pm

for a special

Yoga Flow

pop-up class
We plan to have the class outside on the front lawn by the circle drive. If it is bad weather or too cold then the class will be in the WL1 group fitness room
Email bpfitness1@bp.com or christa.alvarez@bp.com to sign up for the class
Nutrition
Mon 12/12 - Fri 12/16
Let's Gobble up Healthy Delicious Recipes
This week we are focusing on Nutrition
We can enjoy the holiday season with healthier recipe versions of our favorite foods.
Let's share our favorite holiday recipe with each other--be it healthy or just yummy!

We have recipe cards in the fitness centers to write in your recipe
Check out the Nutrition recipe page under the Well My Weigh tab

---
Nutrition Webinar
Virtually on Teams with Dietiian

Karleigh Jurek on Thursday Dec 15th at 11:30
If you are not able to attend we will record the session
To be put into the weekly prize drawing

make sure you input your weight in Flex

also if you email bpfitness1@bp.com with that you watch the nuttition webinar
"Holiday Fit Fest Nutrition Tips for the Holidays"
"The holidays are here! For the health-conscience person, this time can feel stressful and challenging. But the holidays are meant to be filled with joy and cheer! Join Registered Dietitian Karleigh Jurek for her top nutrition tips for the holidays. In this presentation she will equip you with tools that will help you enjoy the holidays stress-free while maintaining your health goals."
​​​​​​​​​​​​​​
Check out these great articles to help with the holidays:
5 Days of Staff Fitmas
Mon 12/19 - Fri 12/23
Try these great staff inspired workout routines. We have workouts for each day of the week. We even have a Christmas bonus workout to complete!
To be put into the weekly prize drawing

make sure you input your weight in Flex

also if you email bpfitness1@bp.com with completing one workout then you get your name in twice
Happy Holidays
This workout from Tara will have you spell out and workout
HAPPY HOLIDAYS!
Run through this routine one time and if you feel good then do it again. Enjoy!
This day workout routine is from Stephen.

Click on the link and get motivated with Stephen on a great strength routine.
Shavonna's workout for the day is a great sample workout for the
Simply Fit
program we will be starting near the end of January. Check out this routine and stay tuned for more info.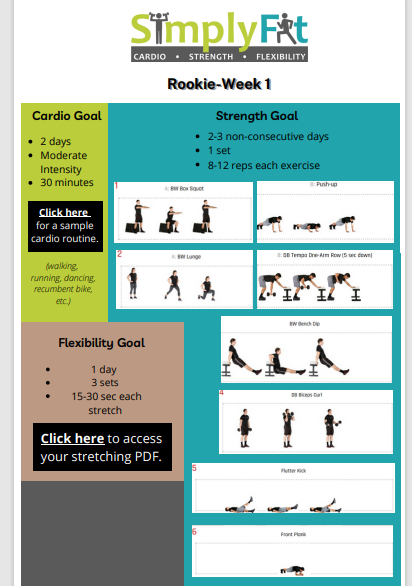 Here we have a great workout from Christa for you to try.
Equipment: Medium size dumbbells or bodyweight
AMRAP in 20 minutes:
10 DB front squats - (bodyweight squats)

10 DB walking lunges

20 DB calf raises

10 DB bent over back rows - (superman)

10 DB lateral raises - (plank shoulder taps)

10 DB overhead shoulder raises - (push-ups)

5 rounds of 30 seconds each:

Plank mountain climbers

Lying down leg lifts
Try this
Iron Elf
workout from Josh!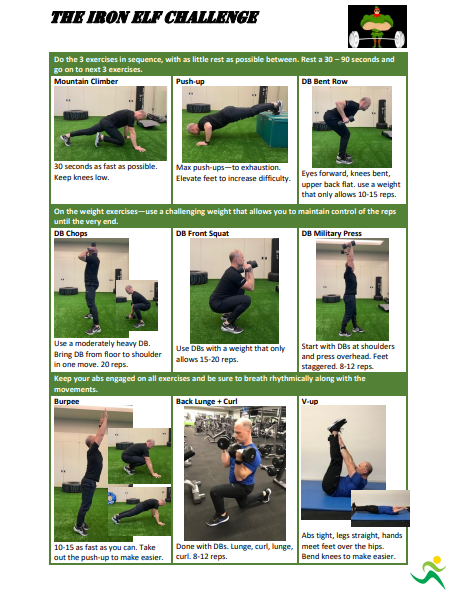 Check out Eddie's
Full Body Tone It Up
routine.
3 sets each exercise
Single-arm medicine ball push-up (alternating) - 10-15 reps each arm

Iso Superman – 45-60 seconds

DB RDL + Shoulder Shrug – 10-15 reps

Donkey kick w/ resistance band – 10-15 each leg

Kettle bell swing – 45-60 seconds (if no KB then use DB)

Body weight reverse crunch – 45-60 seconds

DB side lunge & press – 10-15 rep each leg

Hip Airplane – 10-15 rep each leg
VOLT
Mon 12/26 - Fri 12/30
​​​​​​​
Here is a great holiday workout in the Volt app.
If you don't have the app on your phone or need help then e-mail bpfitness1@bp.com
To be put into the weekly prize drawing
make sure you input your weight in Flex
also if you email bpfitness1@bp.com with completing the Volt workout or your own Volt routine for the week then you get your name in twice
VOLT
Let's kick off the new year with another Volt work out
To be put into the weekly prize drawing

make sure you input your weight in Flex

also if you email bpfitness1@bp.com with completing the workout or your own Volt routine for the week then you get your name in twice
Next week is the final week to submit your weight
We will close out on Fri Jan 15th