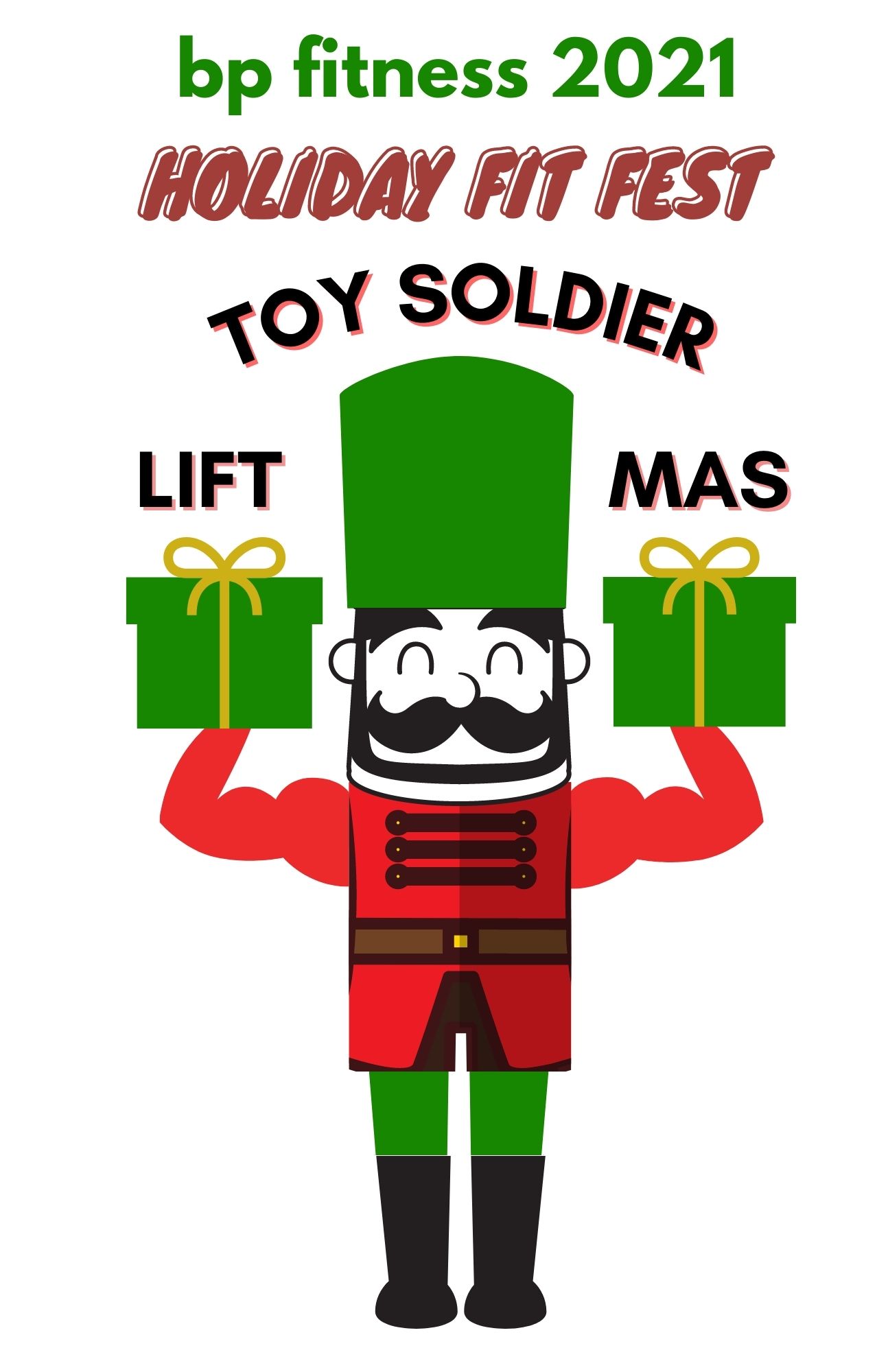 Fitness for the Holidays!
Give yourself the gift of health!
The bp fitness staff have the holiday plan for you!
---
​​​​​​​
All of us at the bp Fitness Center want to bring you some joy and health to help you stay sane this year. Join us for our Holiday Fit fest in person or virtually!
We are bringing the

Toy Soldier

to life and he will be helping to lift our way through the holidays from --Thanksgiving through the New Year!
If this is your 1st time participating in the HFF --we are here to help you to at least maintain your weight during the holidays. It is a bonus if you are able to lose some weight!
This is open to non-members of the fitness center so tell all of your co-works or spouses to join.
We will weigh-in before Thanksgiving and weigh-out after New Year's day. If you maintain or lose weight then you will receive a free t-shirt!
Not everyone is looking to lose weight--for some the goal is to gain weight or gain muscle mass. If so please let us know.
6-Weeks of Toy "Swol-dier"
For the 6-weeks in between we will have a different theme and workouts for each week with highlighting some of our different programs




Volt, Group Exercise, Personal training, Nutrition and the Strava app.




We will send out e-mails and Yammer posts for each week of the activities.




Check out the different theme weeks below.




Let us know when you complete the activities and we will put a toy soldier cut out around the front desks in the fitness centers.




All of the activities will be doable for members participating in the fitness center or virtually.

Completition of each week will be on an honor system.



Prize Drawing
There will be color cut outs of the toy soldier that we will put up around the front desks at WL1 & Helios fitness centers.

To receive a toy soldier you will weigh-in, weigh-out and complete each week of the activities.

When we add your toy soldier cut out to the wall we will put your name in the drawing for a prize.

So there can be up to 8 times your name is added to the drawing for a prize.
Weigh Ins:
November 15th-19th
Members have the options to weigh-in at WL1 or Helios or weigh-in virtually!
If you come to the fitness center to weigh-in --ask one of the staff to weigh you in.
If you weigh-in virtually-- take a picture of your weight on the scale and e-mail it to bpfitness1@bp.com.
It's that easy!
Weight Outs:
January 3rd-7th
Weigh-outs will work the same as the weigh-ins.
If you weigh-in at either WL1 or Helios you will go back there to weigh-out.
If you weigh-in virtually --take a picture of your weight on the scale and e-mail it to
bpfitness1@bp.com
Holiday Trivia
Mon 11/22 - Fri 11/26
Participants are still able to weigh-in this week in-person or virtual
We will start off a bit easy with some fun holiday trivia and an easy workout to do on Thanksgiving and/or Black Friday so you don't feel too guilty eating all of that yummy Turkey, dressing and pies.
Do the trivia and workouts together with your family or friends!
To get credit for this week to have your name added into the prize drawing--e-mail your trivia answers or workout results to bpfitness1@bp.com or comment on Yammer with the workout you did--just don't put your trivia answers on Yammer! For fun add some pictures.
---
Way to go fpr completing the Home Alone trivia:
Reyna Cabrera Cynthia Schwendeman
Rick Molinar Andrius Miksenas
Norma Martinez Annelies Arnold
Tanner Batchelor Lisa Buckner
Anna-Lise YoungLai Kim Murphy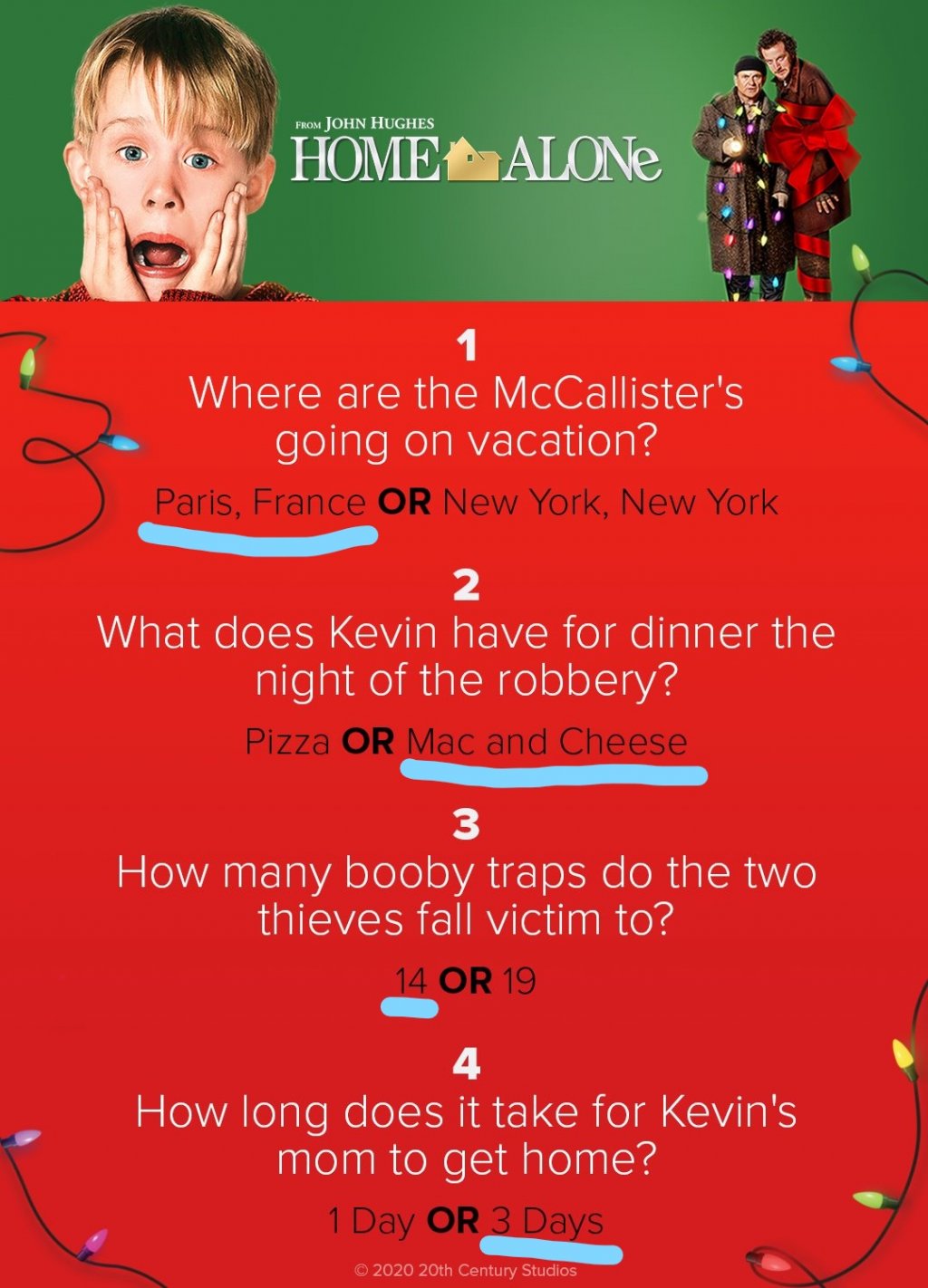 Holiday Movie Trivia
Here is another fun holiday movie trivia. Here are the answers. How many did you match?

Congratulations for completing the Holiday Movie trivia:

Rick Molinar

Tanner Batchelor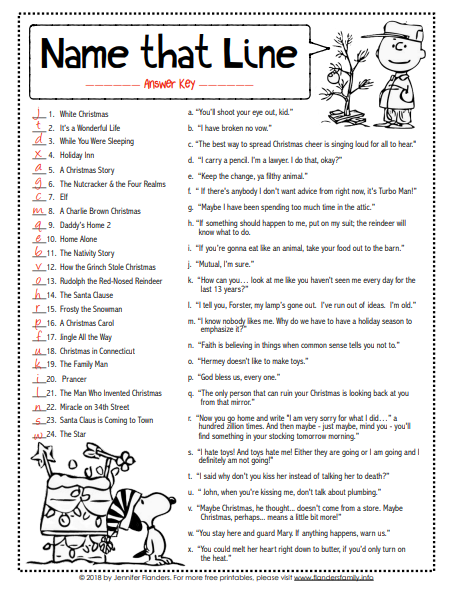 Home Alone Workout
Way to Go for completing the Home Alone workout:
Kim Murphy
Cynthia Schwendeman
Reyna Cabrera
Alphabet Workout
Here is another fun workout to try this week at home. Create different words such as your full name.

Congratulations for completing the Alphabet workout: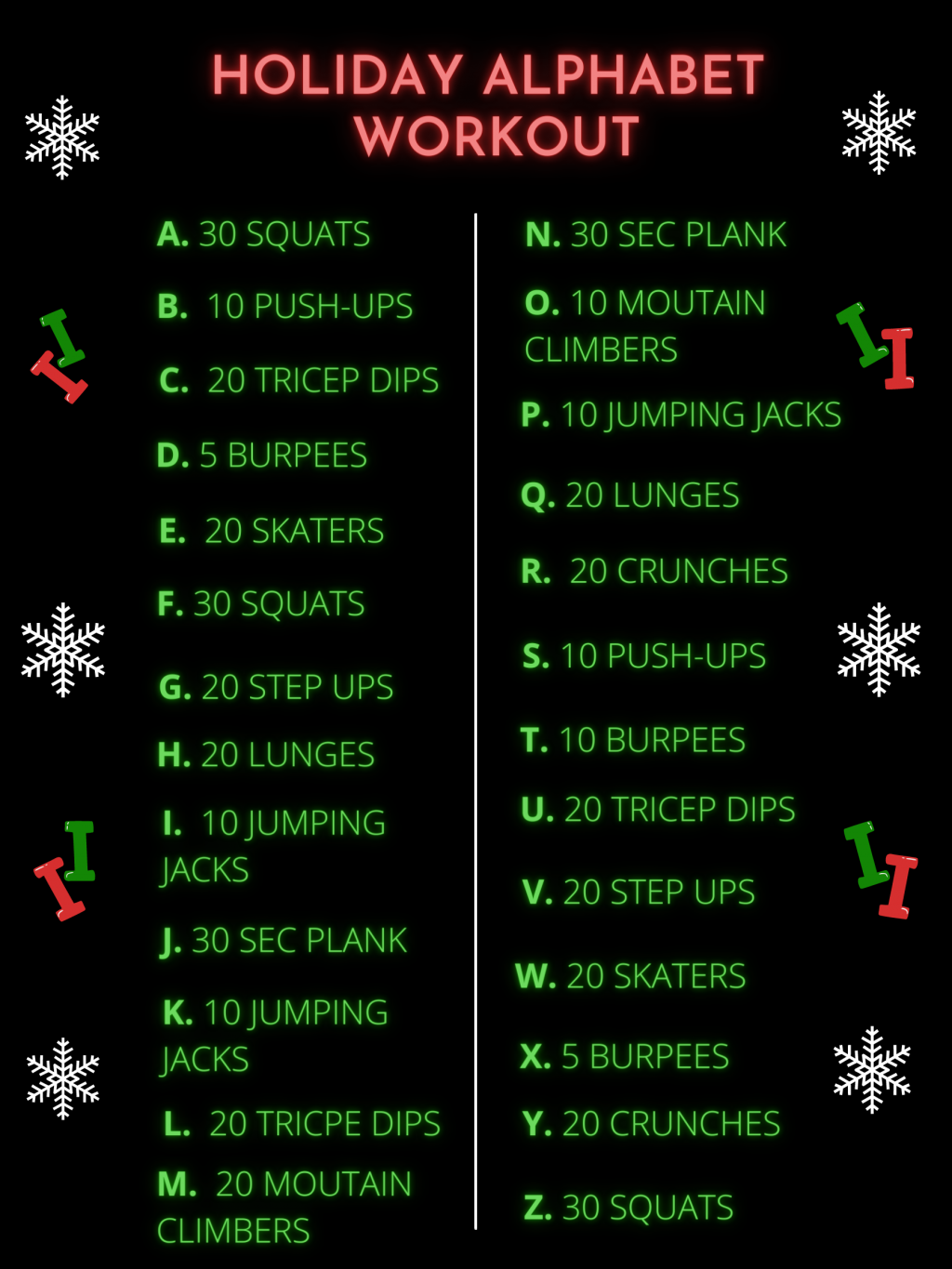 Nutrition
Mon 11/29 - Fri 12/3
Santa's Cookie Crusher
This week we are focusing on Nutrition
We can enjoy the holiday season with healthier recipe versions of our favorite food
We will post healthy recipes and articles on Yammer.
Post some of your favorite holiday recipes. What food do you look forward to eating?
To get credit for this week for the prize drawing then sign-up for Karleigh's virtual talk or post a favorit recipe on Yammer.

---
Join Karleigh Jurek for a great presentation on Tuesday November 30th at 12:00pm
"Holiday Fit Fest Nutrition Tips for the Holidays"
"The holidays are here! For the health-conscience person, this time can feel stressful and challenging. But the holidays are meant to be filled with joy and cheer! Join Registered Dietitian Karleigh Jurek for her top nutrition tips for the holidays. In this presentation she will equip you with tools that will help you enjoy the holidays stress-free while maintaining your health goals."
​​​​​​​​​​​​​​
Check out these great articles to help with the holidays:
Reindeer Run
Use the free Strava app for your phone and get outside and walk or run. If you were planning to have a New Year goal of running a 5k or a 10k well here is you chance to do it or at least get started.
We will have a fun 5K run/walk from Energy Park on

Dec 9th at 11:00am

--or you can do the 5K virtually any day in this week.
For the 5K (around Terry Hershey park) bring a toy or gift to donate for the Child Advocacy charity. Sign-up by emailing bpfitness1@bp.com or stop by the bp fitness centers with your donation.
Donations can be brought to Energy Park on the day of the event! See the Gift Wish List below for ideas of what to donate!
We will have fitness gifts and give aways at the December 9th event! And don't forget your last shot at Wellbeing Points!
​​​​​​​​​​​​​​
​​​​​​​
Try to do all of the classes or as many as you can.
Also if you are in the fitness center try out the Wellbeats on-demand workout videos.
5 Days of Staff Fitmas
12/20 - 12/24
Even though this Christmas week doesn't mean you need to not get in a quick workout. So try these great staff inspired workout routines. For a bonus workout try Josh's routine!
Mon - Tara
Tues - Shavonna
Wed - Stephen
Thurs - Christa
Fri - Eddie
Bonus - Josh
VOLT
Shine Bright, Feel Light
12/27 - 12/31
We will be offering a great workout in the Volt app. So if you don't have it on your phone or need help e-mail bpfitness1@bp.com

add in Volt link